For UMBC Volleyball's Taylor Alexander, 'Excellence Demands Sacrifice'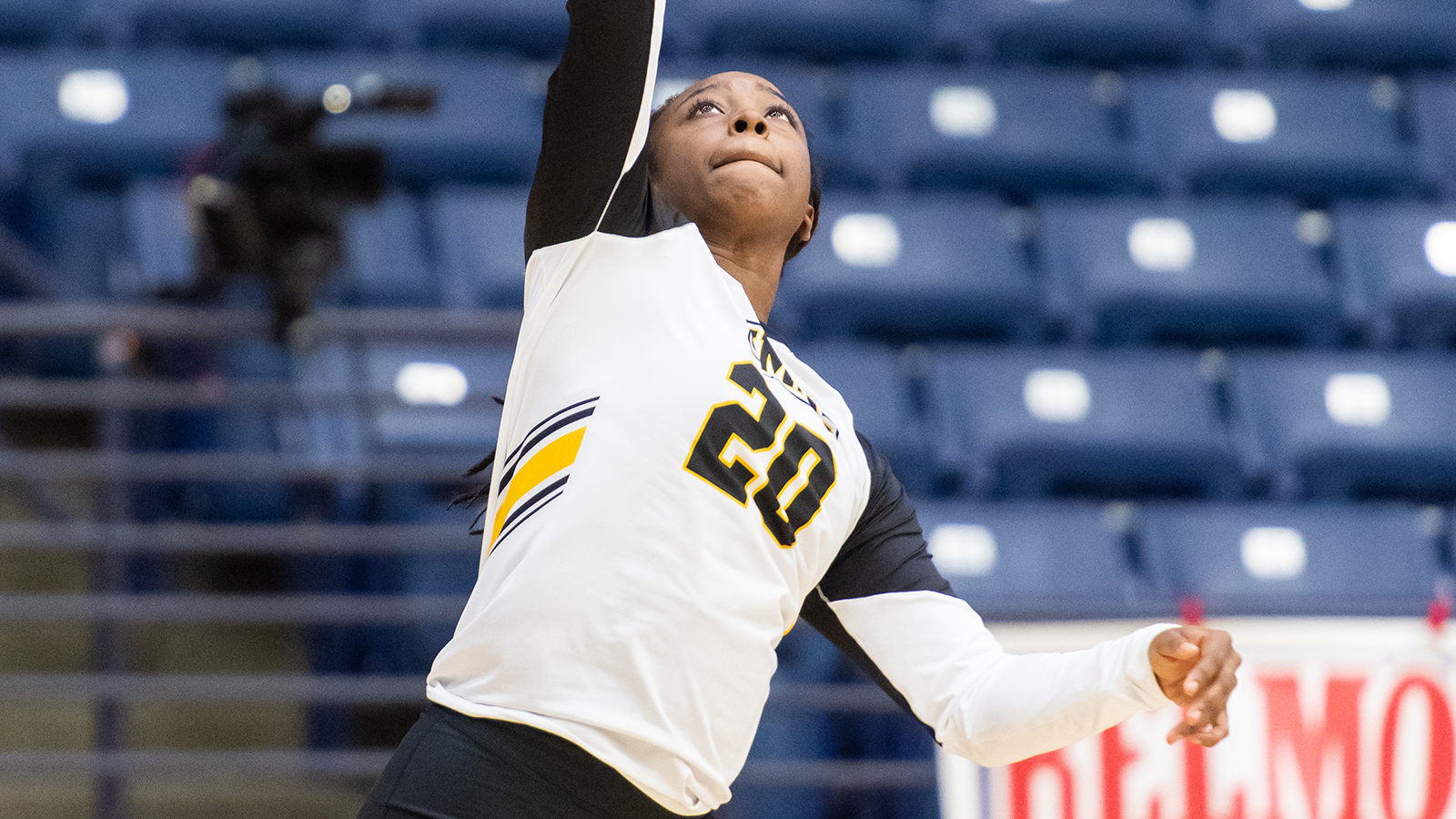 Detroit native Taylor Alexander stumbled across UMBC a bit by accident.
She and her parents heard about the university's prestigious Meyerhoff Scholars Program through a family member who had participated in it and almost immediately knew UMBC was the right fit for her. The decision was made even easier when it became apparent she could play the sport she loved at the school.
Alexander committed to play volleyball for the Retrievers before knowing if she had been accepted into the Meyerhoff Program. Ironically, once she was accepted, it quickly became apparent that the demanding requirements of the program might make it difficult to honor her initial athletic commitment.
The Meyerhoff Scholars Program was developed in hopes of diversifying UMBC's future leaders in the areas of science, technology, engineering and other similar fields, according to the school's website. Students are chosen for the program through a rigorous acceptance process.
For the most recent group of 48 freshmen accepted into the program, the average math SAT score was 700, and the average high school GPA was 4.2.
"It was very difficult," said Alexander, now a senior at UMBC. "My previous coach didn't even think I'd be able to make it on the team as a Meyerhoff because he had another Meyerhoff who was on the team who had to quit her junior year. He was very apprehensive about me doing both, but I knew I could do it. I had been a student-athlete my whole life."
Alexander's hunch was right. She did it, but it didn't come without some bumps along the way.
There were scheduling conflicts that caused her to miss practices and slowed her development as a player, which meant she didn't always travel to road matches during the first two years. Alexander appeared in just 13 total matches as a freshman and sophomore.
"It did take me a year to be able to effectively time manage with the homework and practice," Alexander said. "Luckily, I didn't travel that much my freshman year, so I did have that time to figure it out. The difficult part was that I didn't get to play that much because I missed practices due to class and other responsibilities. So I wasn't really at the level of everyone else yet, and that was frustrating."
A 5-foot-5 defensive specialist, Alexander became the team's main defensive substitute as a junior, appearing in 20 matches and recording 95 digs. Her role has increased this year; she played in seven of the team's first nine matches through Sept. 8, appearing in 16 of 34 sets and recording 13 digs.
A typical day for Alexander might include a 9 a.m. weight-room workout, back-to-back classes, work hours in the academic advising office, practice and Meyerhoff peer advising. She also is a paper grader, has occasional required Meyerhoff-related meetings and has to find time to do homework to maintain the 3.0 GPA required to stay in the program.
"It's really just about time managing and finding specific times that I can do work," Alexander said. "Sometimes I do have sufficient downtime to do the work, but a lot of times I have to do it in the evening. It's really about squeezing everything in effectively."
And then there's eating.
"Eating on the run is kind of a normal thing for me," Alexander said. "I try to eat between classes if I can and definitely before practice. I find myself making a lot of sacrifices just to fit in everything. The program always says that excellence demands sacrifice. That's kind of our motto."
Fast forward to her senior year, and Alexander has become a leader and contributor for the team on and off the court. A math major, she's preparing to attend graduate school, where she plans to study qualitative psychology.
Having someone like Alexander, with her documented work ethic and determination to succeed on and off the court, has been an obvious help to first-year head coach Cristina Robertson.
"Taylor is a very focused, driven individual," Robertson said. "I don't have to find another example of what a student-athlete looks like. She is that kid who will not complain about anything. You look at her and know she's tired and know how much she has going on, and she just won't complain."
Alexander readily admits the schedule can wear on her, but now as a senior she thrives on it.
Being busy all the time is one of my favorite things about being a student-athlete," she said. "It's exhausting but worth it. And at the end of the day, I'll be proud of myself for having made it through four years as an athlete and in the Meyerhoff Program because a lot of Meyerhoffs haven't made it this far."
Being a senior, Alexander also is well aware of her role on the team.
Because I am a senior, but also because people look up to me academically, I make sure to help them with whatever they need," she said. "I try to lead by example. I'm not necessarily a loud leader or someone who is always talking or in your ear. I feel like people look up to me [for] stability. I'm not someone who's all over the place. I kind of have my life together, and I think being that way around the girls on the team is important and gives them a constant in their lives."
It's been satisfying for Alexander to succeed in an elite academic program while playing volleyball.
It's exciting and I feel like all the frustration and hard work has paid off," Alexander said. "It's been a long time coming for sure, but I'm excited for my last year. I'm a little sad, too. As long as I leave UMBC knowing that I did everything I could and worked the hardest I could and was a good example for everyone, I will be happy."
By: Scott Lowe for PressBox Online