UMBC Volleyball's Kristin Watson Invited To U.S. National Team Tryouts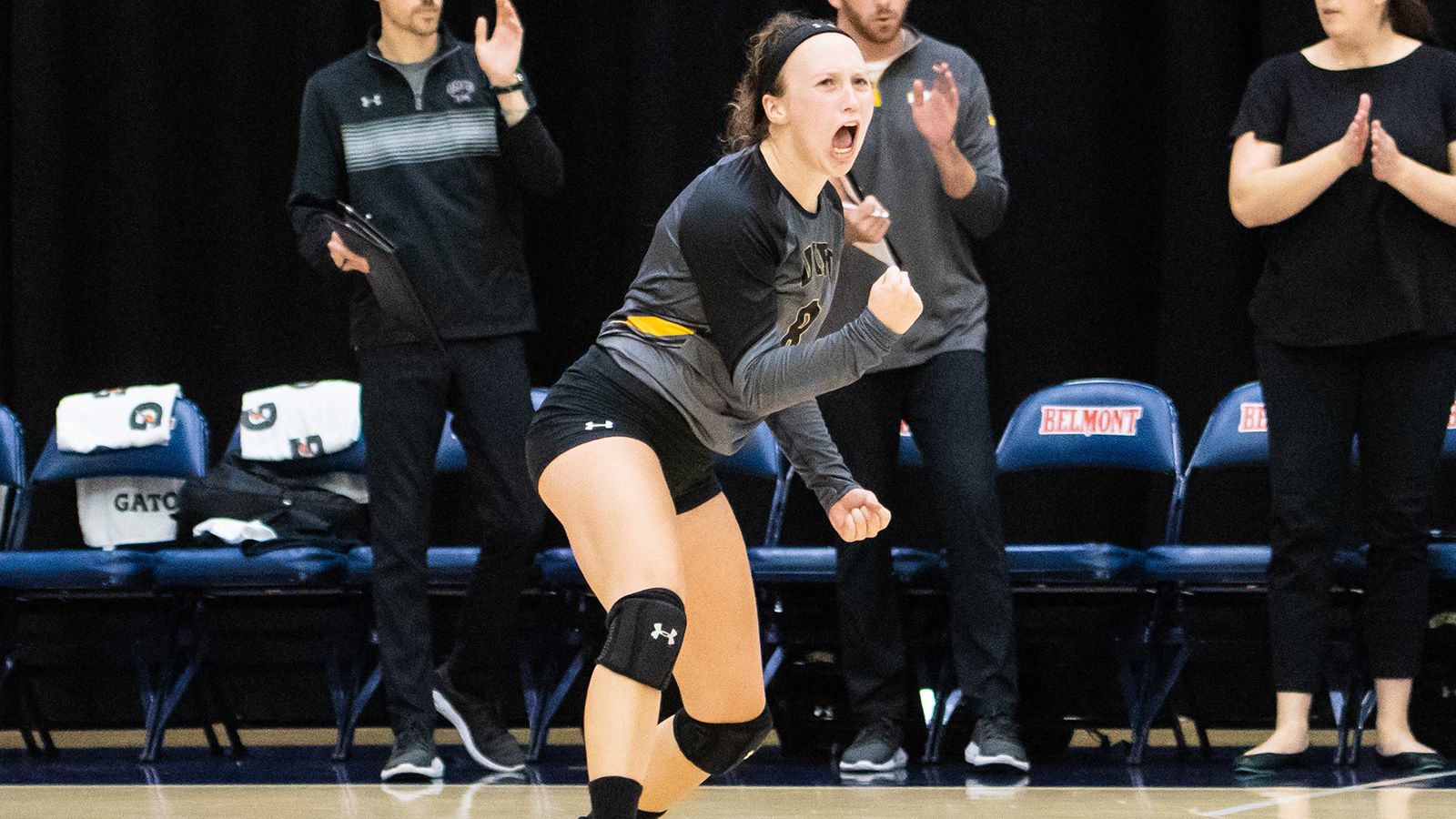 When Kristin Watson applied to UMBC three years ago, she wasn't even thinking about volleyball. Now, as her junior year comes to a close, she has an opportunity to compete against the top players in the nation.
Watson, who walked on to the Retriever team as a freshman, will be the first player in program history to attend United States National Team tryouts in Colorado Springs, Col., March 2-4.
"I'm really looking forward to playing against the top elite volleyball players and having an opportunity to train with the best," said Watson, a native of Bowie, Md. "We played against some top teams this year, like Nebraska and Maryland, and even in those matches I felt like I was able to hang with the Big 10 players, so to be able to go and prove what I can do is awesome."
About 240 athletes will attend the tryouts, hoping to land a spot on one of four teams. Watson will be one of about 50 players at her position competing for spots on one of three U.S. Women's Collegiate National Teams that will compete both domestically and abroad.
"Kristin's opportunity means a lot for our program," Retrievers head coach Cristina Robertson said. "Having the ability to compete on the national stage brings a lot of visibility to our program. Any time you have the ability to showcase the success of your student-athletes, it definitely makes a difference in the recruiting process."
Watson, a defensive specialist who served as captain this year, also hopes the opportunity will pay dividends for the team, which just missed qualifying for the 2017 America East Tournament after finishing tied for fourth place at 14-12 overall and 6-6 in conference play.
"I think it will be great for the younger players to know that they can potentially do something like this, too," Watson said. "It's a goal that they can set and potentially reach. There is a great opportunity for growth here; it's really about how you finish your career and what you make of the time at UMBC."
Watson certainly is making the most of her stay at UMBC.
She had a standout career at Eleanor Roosevelt high school in which she earned two team MVP awards and received honorable mention All-Met recognition from The Washington Post. After Watson was accepted to UMBC, former head coach Ian Blanchard saw her play in a club tournament, invited her to campus and ultimately offered her a spot on the team as a walk-on.
It was a short recruiting process, but once I was on campus I loved it," Watson said. "While I wasn't necessarily thinking about attending college so close to home, it's nice to be 30 or 35 minutes from home and for my parents to be able to attend my games and have that support, too."
Watson came to UMBC with no guarantees other than a spot on the team, but through hard work and determination she gradually earned playing time. She appeared in 21 matches as a freshman and recorded 90 digs.
"I didn't come in with very high expectations, but I knew that I had a pretty good opportunity since all the girls who played the defensive specialist position were freshmen," Watson said. "Early in practice I could see that I was holding my own and thought that if I worked hard I would get more of a chance. I ended up getting a good amount of touches my freshman year and knew after that season I had a chance to come back and be a starter if I worked hard enough."
Watson still opened the 2016 season as a reserve, but she made the most of her opportunities and quickly moved into the starting lineup. Once she got in, there was no moving her out. She played in 26 matches, recording 497 digs — the fourth-best single-season total in program history — and led the America East in digs per set at 5.6. Watson also turned in six of UMBC's all-time top-10 single-match dig performances and tied the school record with 41 digs against Albany.
She became the first player in Retriever annals to be named conference defensive specialist of the year and was named first-team All-America East. Watson was the only defensive specialist in the league to earn first- or second-team all-conference accolades, and she followed that with a junior year in which she again led the league in digs per set en route to second-team all-conference honors.
During the last two years Watson has compiled 911 digs to eclipse the 1,000 mark for her career. Assistant coach Christian Kiselica has been with the program since 2016 and has witnessed Watson's growth firsthand.
"She is the epitome of the college athlete experience, coming in as a walk-on, barely recruited and not even sure if she was going to play college volleyball," Kiselica said. "She didn't have a big role to start off with, but by her sophomore year you could see that she was catching up to everyone else, and by the end of the year she was by far better than anyone else at her position solely because of her work ethic. She's not the most physical person, I think she's about 5-foot-4 on a good day, but when you put her on the court she's absolutely ruthless. That's why she's one of our captains. She just went out and proved everyone wrong."
By: Scott Lowe for PressBox Online